Indee - Product Design
In June 2016, I joined an early stage startup as their lead product designer. They'd just raised a seed round of funding of half a million from K-Start, Kalaari Capital's incubator program, and the product pipeline was loaded with opportunity. Needless to say, I was very excited about all of it. Here's a quick look into my work at Indee.
The AFM (American Film Market), is a week long film and media market, with potentially over a $1 billion in deals that go down every year. For the 2017 edition of the AFM, Indee bought into a basic sponsorship plan to distribute our brochure as part of the official AFM welcome kit.
The screener is Indee's core collateral. Think of it as a Netflix intro page for a new show, except these are for works-in-progress or unreleased materials looking for rights deals. The screener depends on the user to add in a poster and background and needs to adapt to light and dark images alike. There's also a plain blue default version that goes out when a user doesn't upload any visual assets.
Scoop is the first organised video tester resource pool in the world. Indee uses Scoop to grow its video tester base that in turn enables smoother and more dynamic recruitment for its research screenings. Video testers are paid for their reviews via Paypal or in the form of Amazon gift cards. Although a novel concept, the model could easily be misconstrued as scammy, so my primary goal was to design a page that would communicate the business proposition clearly, without arousing skepticism about its legitimacy.
In order to reduce signup drop-offs I decided to reiterate some of Indee's core value propositions - great security, strong analytics and the availability of online research screenings.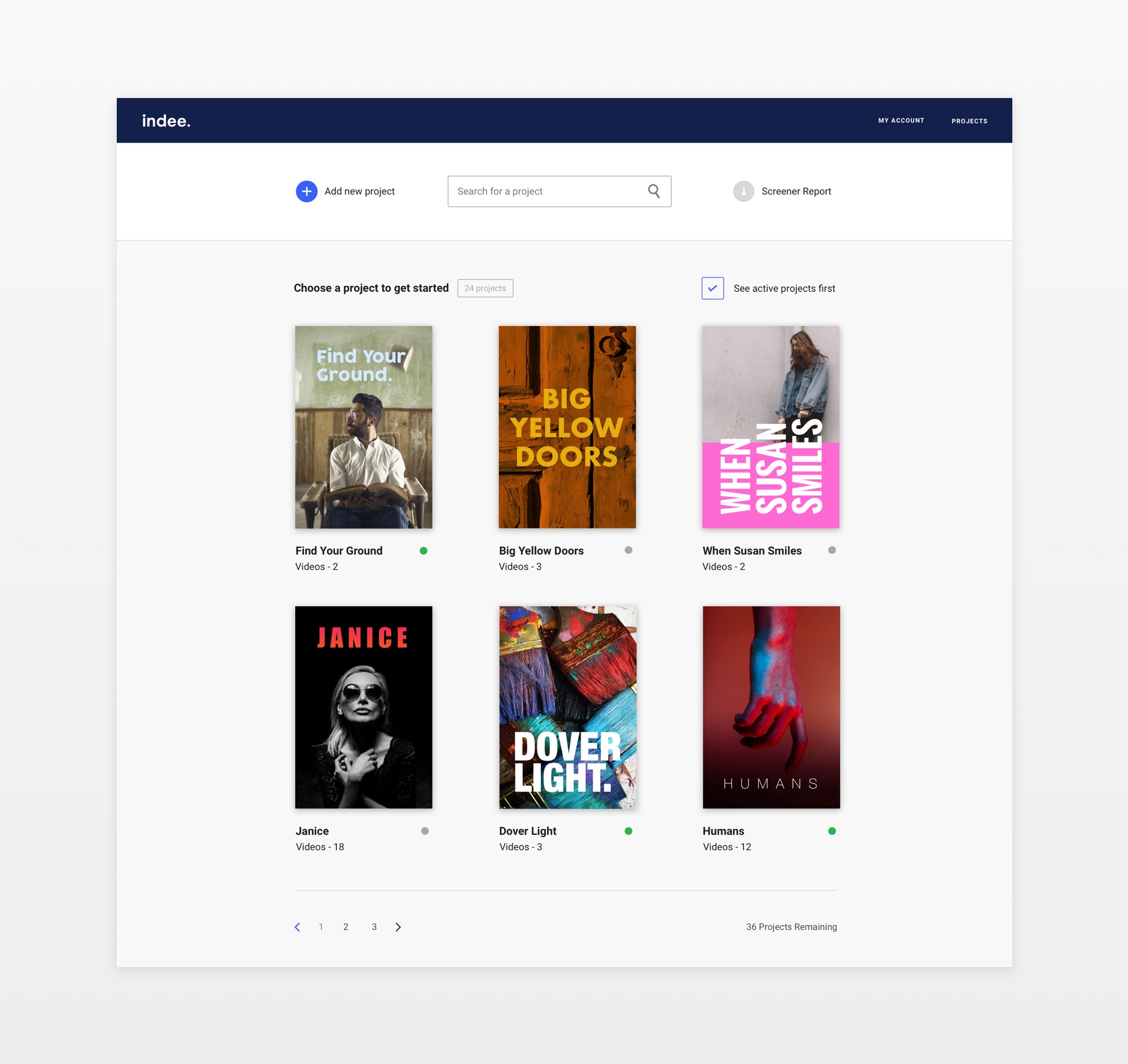 Projects on Indee were the system of organisation. All videos like trailers, teasers, promos, features its various versions from a project can be sent out as screeners. The listing page displays all of a user's projects in reverse chronological fashion for easy access. All the posters in the screen displayed were designed by me using free stock images.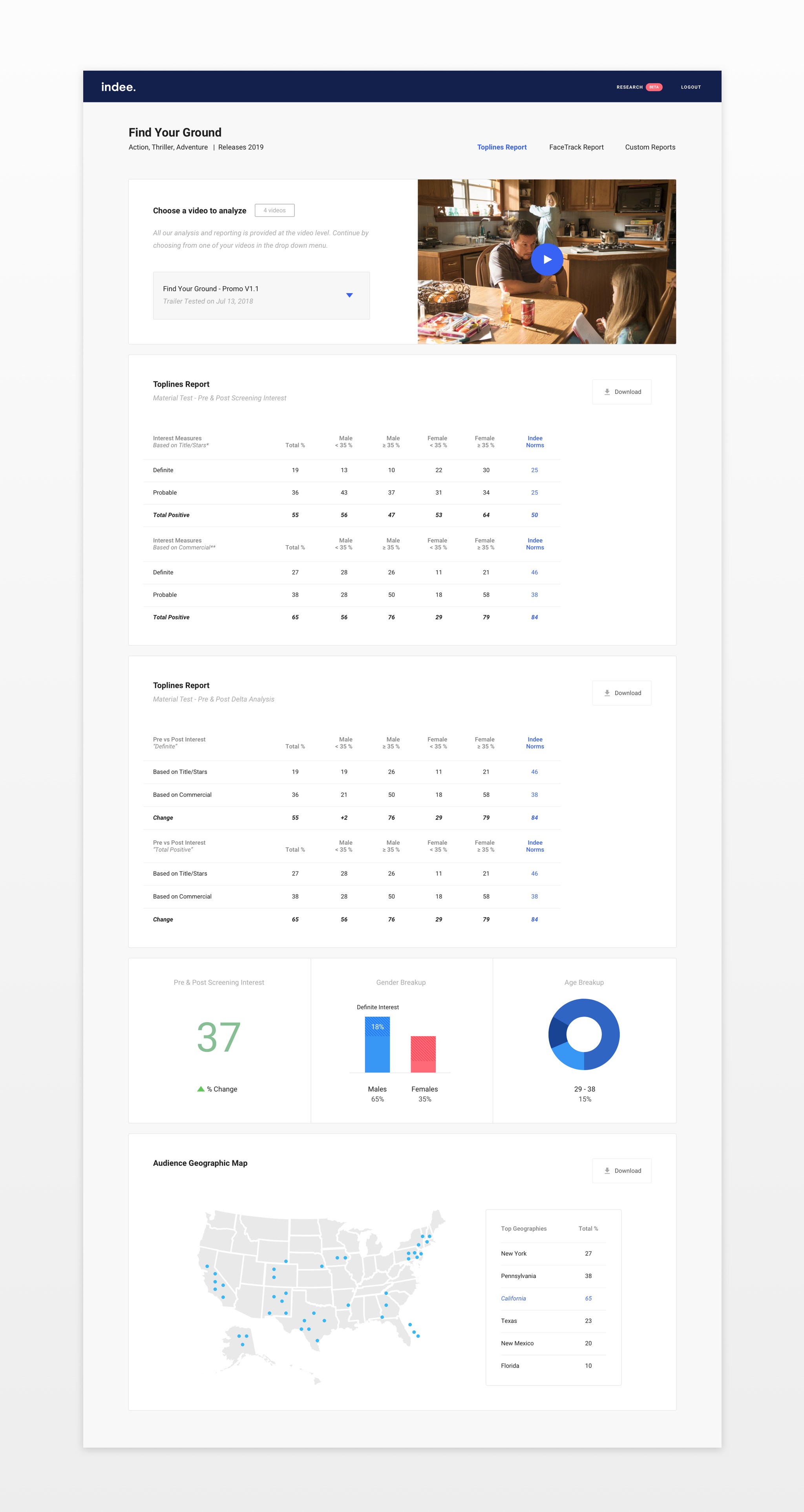 The Indee insights dashboard provides internal and external analysts with a quick and easy way to access research screening data rather than have to wait for human generated excel sheets. The tables are designed and computed as per industry standards.
Indee Screener Generation
Users need to complete a simple 3 process to generate screeners. Once a user's selected the videos they'd like to screen, they choose their security settings. Security features vary with different plans.
Indee Screener Management
This screen helps in tracking and managing all screeners that are sent out from the project. Each screener is a separate line item and can be clicked through in order to see more details. Users can also download entire screener reports as .csv files for further analysis.
One of the most impactful features we built into Indee was the ability to track individual viewer engagement. Users can see how every single screener view performed with the help of this intuitive second-by-second engagement visualisation.
Indee Subscription Management
This screen helps users track and manage all their subscriptions across the account. While a user can manage individual subscriptions from inside a project, an aggregated view helps making decisions in bulk.
FaceTrack is Indee's proprietary facial emotion recognition technology that helps in understanding a viewer's latent feelings that he/she may not reveal in traditional written feedback. This page is an excerpt from a more detailed literature document on Indee's research screening offering.
Indee Cumulative Analytics
The cumulative analytics graph is all the engagement data across every single screener viewed of a video. This simple yet powerful visualisation can provide very critical information about the video to the project owner.
The sole aim of the messaging and visualisation for Indee's research screening homepage was to build trust and seem easy as pie. The logos of the large studios, coupled with the generally affable photograph of the woman and the free resource download was a deliberate attempt at winning a new visitor's trust.
This graphic was designed for an editorial post Indee wanted to create. The project was however shelved and the design left unused.